CEOs of Ambev, Itaú, and SAP talk about communicating solidarity in the pandemic

05 de November de 2020
The last session of the Corporate Communication Forum, organized by Aberje and Valor Econômico financial daily, discuss solidarity, brand positioning, and the spokesperson role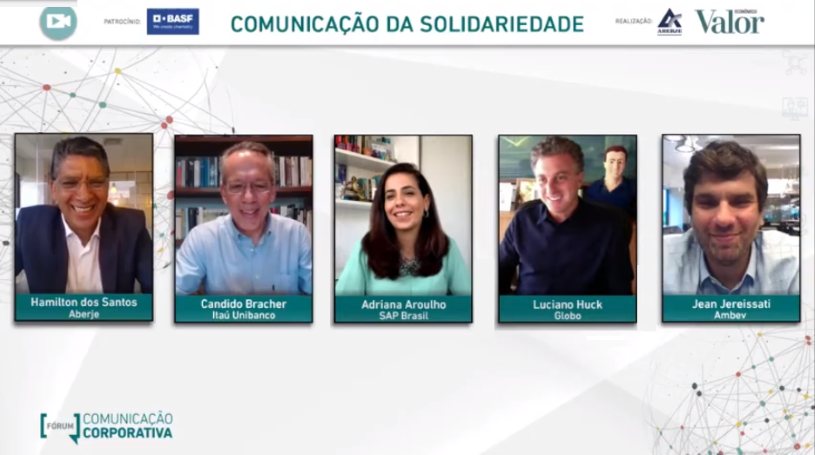 Focused on Solidarity Communication, the fourth and last session of the Aberje and Valor Econômico Corporate Communication Forum, held on October 22, brought together some leaders who acted on this front: Candido Bracher, CEO of Itaú Unibanco; Adriana Aroulho, president of SAP Brazil; Jean Jereissati, Ambev CEO and Luciano Huck, TV Globo presenter, philanthropist, and entrepreneur. The mediation was carried out by the director-general of Aberje, Hamilton dos Santos.
In his opening, Santos reinforced the purpose of the forum to highlight the role of Communication during the pandemic, analyzed how the crisis accelerated trends in the corporate world and discussed the transformations in companies' relations with their different audiences.
"If, on the one hand, we have had a chaotic picture of polarization, of harsh and contradictory news, at the most critical moment, an extraordinary phenomenon was noticed – a network of leaders, entrepreneurs, and investors organized in a solidarity movement to help governments and society to combat the immediate and perverse effects of the health and financial crisis," he said.
Solidarity is a virtue
Solidarity is a virtue, but when practiced by companies and public figures, it often generates a certain distrust and a sense of opportunism.
Adriana Aroulho, who during the pandemic assumed the presidency in Brazil of SAP, the world leader in management software, said that the company invested in social responsibility projects and made some technologies available to its customers as the experience management platform so that could optimize communication with their communities in this very difficult period.
"When communication is genuine and aligned with the company's values, this issue of opportunism is not a problem. In this moment of such difficulty, the values of the organizations emerged," she said. "Three-quarters of the world's GDP runs in our systems, and with that, we have a great responsibility to help this world work better through our technological solutions," she said.
"Nobody is prepared for a crisis like this. There was no contingency plan, and when the crisis arises, spontaneity emerges; it is what you are in fact, as an individual and as a corporation," said Candido Bracher, CEO of Itaú Unibanco. Together with the institution's board of directors, he created Todos pela Saúde ("All for health"). This initiative started with a donation of R$ 1 billion and brought together partners and competitors in a solidary chain. "As important as the donation was the way of managing the resources, and this is not at all marketable," he said.
Another initiative was that of Ambev, the largest beverage producer in Latin America. The company reorganized all of its factories to produce and donate hand sanitizers, PPEs, food, and drinking water to healthcare professionals on the front lines in hospitals. "It was really cool to transform a beer line into a hand sanitizing line. In seven days, we learned to do something we had never done before and when the whole of Brazil needed it most", said Jean Jereissati, CEO of the company in Brazil.
Increasingly recognized for his position on social issues, TV presenter Luciano Huck believes that the pandemic highlighted the inequalities of a deeply unequal Brazil. "We are all part of the problem, and we are all part of the solution. We have a social and inequality issue, and there is no foolproof recipe for tackling or overcoming poverty in the country. Still, I think it about coming out of inaction and having the capacity to act," he said. "Advice helps, and example drags people. We have here examples of leaders who came out of inaction and could execute ideas in this very delicate and painful moment".
Huck also stressed that the crisis promoted, in some way, a greater connection between all. "We have never been more connected. May we get out of the pandemic as a more supportive and more fraternal country".
The exercise of communicating
Never have the organizations' leaders been so requested and invited to participate in the public debate to communicate and assume the company's role. But how have CEOs handled this?
Bracher says he has always been reasonably averse to exposure. Still, he believes that as people evolve in their careers, they do not necessarily do what they do best – nor do what they like best – but what is most necessary and useful for the company. "This is how things work. The pandemic made it necessary to speak. I had to get out of my comfort zone and start talking because I realized that this was important for the bank and the moment the country was going through. And this is very positive because the exercise of communicating forces you to have a greater consequence in your attitudes," he said.
"I am like [Voltaire's] Candide; I listen more than I speak, I am more introspective in general; it is not an easy process for me", said Ambev's Jereissati. "I was completely rusty in this process of talking outside [the company]. But before the pandemic, we had already agreed that we would open Ambev more to the outside world. In February, we created an internal movement where we invited people to get to know our projects of diversity and social impact. With the pandemic, this has become an inevitable and necessary process, which helps us to mark some positions".
With 20 million followers on Instagram alone, Luciano Huck told what it's like to deal with so much audience. "Brazil is still a country where 80% of people have open television as their only source of entertainment and information. We have a country with different cuts and different accesses. It is essential to be in the public debate, but it is not easy to take a position and give an opinion in a country with so much polarization".
When closing the Corporate Communication Forum, Aberje's CEO and professor at ECA-USP, Paulo Nassar, emphasized institutional leaders' importance in organizations. "Business leaders are also becoming institutional leaders, concerned with society and with all these issues that were discussed today," he said. Nassar announced the hors-concours award of CEO Communicator of the Year for Candido Bracher, from Itaú Unibanco. "It is important to note that the Aberje Award is minimalist and has a tradition of highlighting people who strive for a purpose in the area of corporate communication. Congratulations to this serene man for his career!".