"There is a lack of dialogue between the EU and Brazil," declares the CEO of Bayer Brasil

12 de April de 2021
Spanish executive made a statement on the last day of the first stage of Aberje Trends – Communication Trends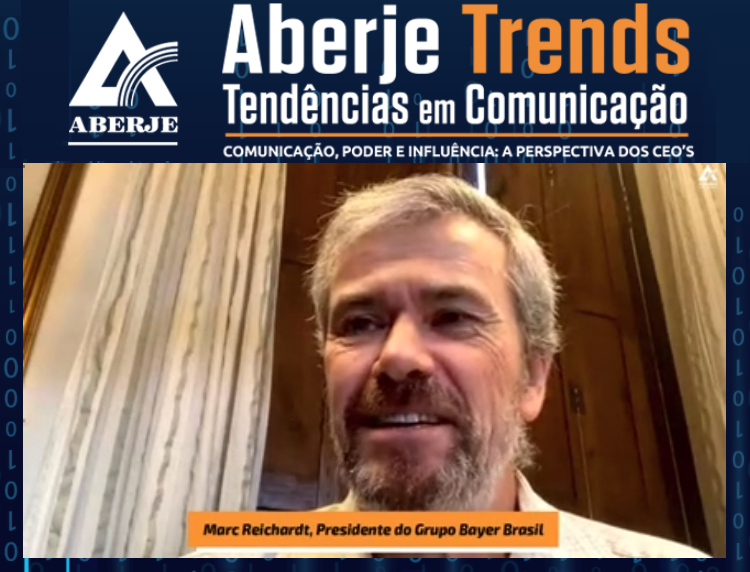 The lack of dialogue, communication, and knowledge of what happens in the country is the main obstacles between countries in the European Union and Brazil. This is how Marc Reichardt, president of the Bayer Brasil Group, assesses him during his participation in the first stage of Aberje Trends – Communication Trends. "The country has high-tech, very advanced, and sustainable agriculture," said one of the most influential CEOs in the country.
On occasion, the CEO highlighted how Bayer has behaved in the face of the United Nations' Sustainable Development Goals (SDGs), the Paris Agreement, and the very aspiration "Health for all, hunger for no one." "We have established very clear goals to be achieved by 2030, focusing especially on the main environmental challenges in the agricultural chain, such as, for example, a 30% reduction in emissions of polluting gases and the marketing of agrochemical products that have 30% less environmental impact. We currently contribute with 5% CO2 and work continuously to advance even more," he said.
Marc Reichardt's enriching international experience draws attention to an interesting point in his speech. While working in countries such as Germany, Argentina, Poland, and Brazil – Bayer's second global operation -, the executive noted that it is not the businessmen's way of working that differs, since they follow indicators, but the cultural component.
"It was very different In Poland, where the language had nothing to do with those I spoke at the time, such as German, Spanish and English; Polish is a Slavic language. I have always believed in the importance of learning the language of the country where I am. It was not easy, but I learned to speak Polish. When you adapt to the culture of a country, it is amazing how people welcome you. I think that the cultural component is what differs, in the way of motivating people and in the history of the company, which brings this culture to the present moment, which somehow also defines the future of the country," he said.
"The pandemic was the biggest challenge of my career, especially in the first weeks, when it was difficult to understand the whole situation, to know how to act. Our priority was people, and we immediately decided on working from home. Today, we have 70% of employees working from home, and we had no impact on our numbers."
To continue the operation, Bayer created its security protocol to ensure the health of its employees and at the same time provide products to customers. Supporting society was also crucial for the company, creating guides and donations to the local community. "This is our task. It was a challenge. One positive point was that the pandemic brought much more dialogue. Now I talk to people from virtually all over the country, which I didn't do before."
Reichardt also mentioned the complexity of communicating in a company that has different realities. He says he learned from his Communication Director, Malu Weber, that the task is like speaking the same language but with different accents. In other words, it is necessary to transmit the same message to everyone, but in a different language to the internal public that works in the agricultural part of the company and to those who work with human health. "It is complex, but it works very well."
In addition to the fact that diversity and inclusion create innovation, Bayer also advances in D&I programs. "This year, we are implementing the Black Leadership Trainee Program simply because the representation of the Brown and Black community is low (30%), especially in leadership. More than 25,000 people applied for 19 positions. I had the opportunity to be with these people, and I realized a very high level of ability. There are people in this community who are very prepared, so give them the opportunity and make it happen. The same with people with disabilities or sexual orientation groups. Diversity is good for the whole of society."