The Woman in Communication, her strength, her challenges: survey approaches career with female executives

10 de March de 2022
Online meeting was attended by women on International Women's Day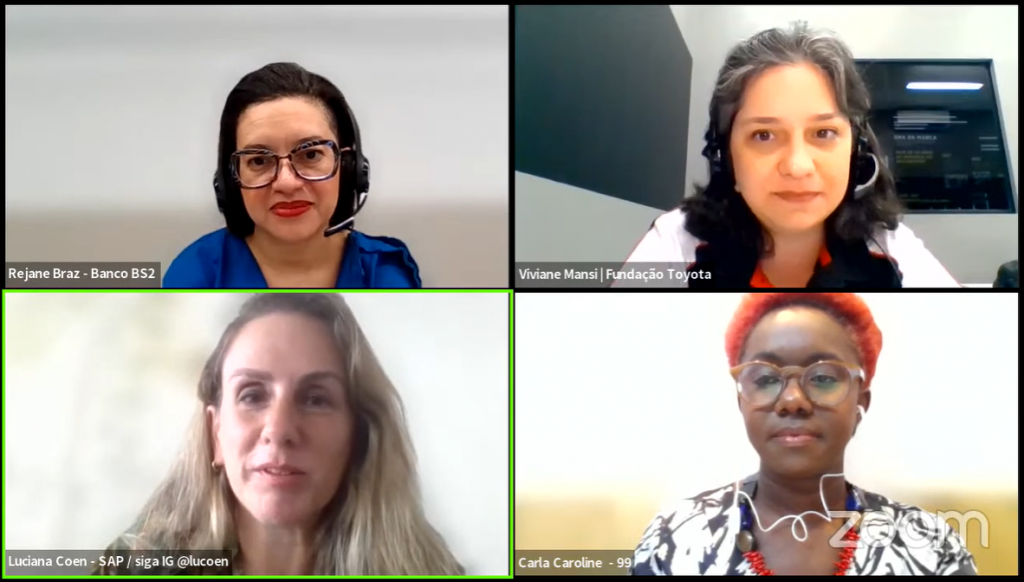 On International Women's Day, Aberje promoted a live session to disclose the survey "Women in Communication – Her strength, her challenges." The event was attended by Carla Caroline, Senior Communications Analyst in the Mobility pillar of 99/DiDi Chuxing; Rejane Braz, Communications Manager at BS2 Hub; Luciana Coen, Director of Integrated Communications and Corporate Social Responsibility at SAP. The mediation was carried out by Viviane Mansi, Communications Director at Toyota Latin America and President of the Toyota Foundation of Brazil.
Based on a sample of approximately 500 women who work in the communication areas of several companies, the survey presents a general profile of women in the area, as well as to show their opinions on various subjects directly related to their careers and important concepts for society, such as diversity, pay equity, educational background, and motherhood.
"Women in Communication – Her strength, her challenges"
According to the survey, all participating communicators have higher education – 51% of them are graduated in Journalism, 19% in Public Relations, and 15% in Publicity and Advertisement, and 53% of the respondents hold leadership positions.
For the vast majority (67%) of the participants, the most critical issue women face in the work environment is the balance between professional and personal life, also demonstrating the presence of a strong culture in which women are responsible for managing issues of the family nucleus.
The strategies or changes that would have the most significant impact on gender equity in organizations, in the view of women, are changes in the workplace culture (50%), affirmative equality strategies (48%), and promoting changes in practices and policies of recruitment and selection (44%).
As for equality of conditions, 43% of respondents consider that remuneration and promotion opportunities in their companies are the same for men and women. On the other hand, 24% assume that women have lower salaries, while 35% point out that men have more opportunities. Moreover, 64% of the respondents identify a more significant number of men in leadership positions in their organizations; this causes discomfort for 70% of them.
Regarding harassment in the workplace, 73% of women have experienced harassment, and 78% have witnessed some harassment. To curb harassment, 54% of respondents believe in more vigorous punitive measures, 41% highlight more effective mechanisms for reporting complaints, and 36% emphasize raising awareness among men.
You can watch the live session here: