Seven lessons of business and reputation from DealBook Online Summit, from NYT, series of interviews with global CEOs and leaders

25 de November de 2021
Reputation, The different stages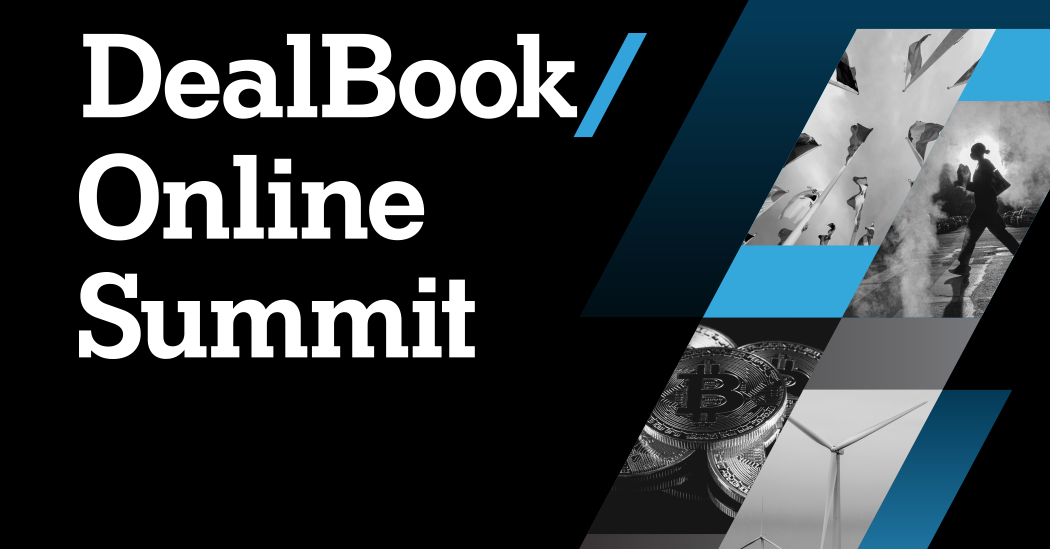 In 2001 DealBook was started by Andrew Ross Sorkin, a journalist at The New York Times, as a newsletter about finance and deal making. In 2006 Sorkin launched a website published on The NYT which is updated daily. The site won various awards including the Webby award for best business blog in 2007. Dealbook covers International finance and business and is a valuable resource for communications professionals who want to keep up with the latest news, trends and personalities in the business world.
Sorkin, who is also an anchor on the CNBC network, hosts DealBook Online Summit, a series of interviews with CEOs, entertainers and difference makers. This year many of the guests spent their time marketing their companies, reeling off products and success stories. Apple's Tim Cook, We Work's Adam Neumann, Meghan, the Duchess of Sussex, US Secretary of State Antony Blinken, Podcaster Dax Shepard and others used the opportunity to define and shape their personal reputation or that of their organization's. Depending on the arc of their particular journey each communicates their experiences from a variety of different perspectives. Here are some of the highlights from the series.
Tim Cook, Apple
Reaffirming a reputation
Tim Cook led the series as the CEO of Apple, the second largest company in the world and at the forefront of technology and innovation. Cook was confident and yet humble about Apple's success. He focused on Security and Privacy as the signature goals of the brand. Cook further highlighted Apple's reputation as a company whose priority is the integrity of their products and their brand. The leader of Apple said companies must be engaged in political and social issues, whether it be publicly or privately, and should not stay on the sidelines. True to his nature and that of Apple's he concluded with a quote from Apple's popular TV series Ted Lasso, "there are two buttons I never want to push, panic and snooze." Cook's posture is often down the middle, never too hot and never too cold. His calming nature is appropriate for a brand which is on a glide path to continued success.
Adam Neumann, WeWork
Rebuilding a reputation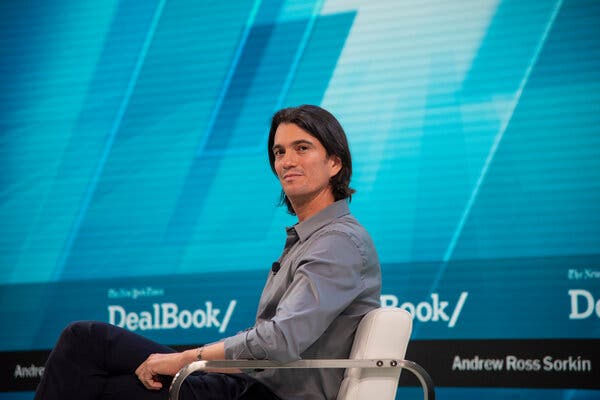 WeWork is a commercial real estate company that offers flexible office spaces for tech startups and other companies. In 2019 the company went public but the IPO failed because investors did not believe the company was viable. In September 2019 co-founder Adam Neumann resigned as CEO and was paid almost 1.7 billion dollars from stakeholder Softbank. This was quite controversial because the company had lost a lot of money and many employees had been let go. Unlike traditional corporate giants like Apple, GM and Exxon, WeWork and it's young entrepreneurs are in the midst of a growth process that is emblematic of many of the tech startups in the new economy.
The DealBook interview was the first time since leaving the company that Neumann spoke publicly. He mentioned many of the company's successes and noted that many of the negative stories about the company and his leadership were not true. He did acknowledge some of the mistakes he had made and how he had learned from them. Neumann says that he has moved on and grown a great deal from the experience. This certainly was the first step in his attempt to restore his public image and rebuild his reputation.
Antony Blinken, US Secretary of State
Redefining a reputation
President Biden chose Antony Blinken, a seasoned diplomat, to lead a new and decidedly different US foreign policy from his predecessor. As the chief communicator for American foreign affairs he must navigate through a complicated maze of international and domestic policies and stakeholders. In the interview Blinken declared that the relationship with China is the most complex and consequential relationship for the US. He further described it as cooperative, competitive and at times adversarial. Blinken stated, "the challenge for us is to make sure we are managing that relationship across all of these different aspects."
As a strategist Blinken must design a foreign policy that deals with an ever changing world. As a communicator he needs to have the ability to synthesize and clarify complicated situations and outcomes. Considering these challenges, Blinken knows that an effective communication strategy is essential to the diplomatic process and can mean the difference between the perception of success or failure.
Mary Barra, GM
Renewing a reputation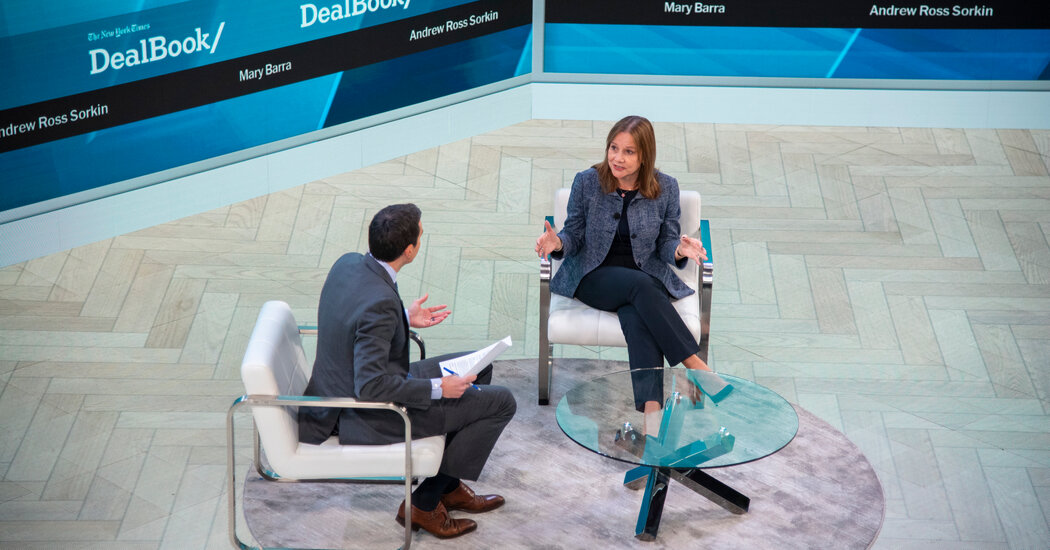 The CEO of GM, Mary Barra, who has worked at the company all her adult life, brings a confident, energetic and optimistic view of GM's position in the automobile industry. With the arrival of electric vehicles (EV) and competitors like Tesla, Barra positions GM as a leader that is looking towards the future and ready to compete with anyone. As the conversation veers towards other companies, most often Tesla, Barra adroitly brings the discussion back to GM. She is well aware of GM's long tradition and that it is important to portray the company as an innovator on the cutting edge of technology.
Barra spoke about various topics; unions, carbon emissions, the risk of autonomous vehicles and ongoing issues concerning the relationship between government and the automotive industry. She touts the fact that GM has the highest loyalty ratings and is a brand that customers trust. Like any fierce competitor Barra declared, "we are not going to cede our leadership to anyone."
Darren Woods, Exxon
Defending a reputation
Every communicator must deal with contradictions and Exxon's CEO Darren Woods has his share. Woods is in the unenviable position of advocating for a company which produces a product that many in the world want to reduce or even eliminate. He must construct a narrative that weaves its way through a labyrinth of public opinion that seemingly has no exit. On the heels of COP26 Woods presents the image of a company and an industry that is in the process of changing while at the same time continuing to be the same.
Exxon is one of the world's largest companies in terms of revenues and many of its shares are held by institutions. When Woods speaks he is keenly aware of the different needs of the company's stakeholders; investors whose primary goal is profit and customers who are increasingly concerned about the environment. He recognizes the need to transition to carbon free energy, and yet at the same time points to the fact that the world still runs on oil. When asked how he feels personally about climate change, he mentions his concern for his grandchildren and the need to find acceptable energy solutions for the 21st century.
Mellody Hobson, Ariel Investments and Meghan, The Duchess of Sussex 
Promoting a reputation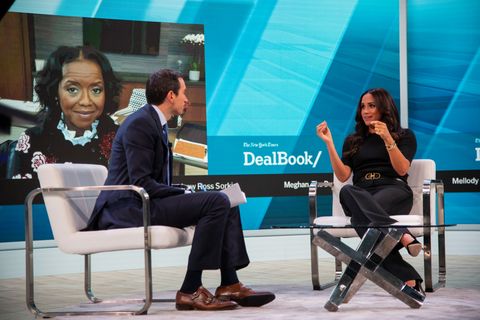 Melody Hobson is the president and CEO of Ariel Investments, the first black owned investment company in the US, and the Chairwomen of the Starbucks board. Meghan Markle along with her husband Prince Harry started the Archewell foundation. The focus of the interview was women in business and in the workplace.
Among other issues Hobson tackled the question of women who are seen as ambitious and the difficulties they encounter in business. She says there are times, as a boss, when she needs to modulate her presence and not seem "too big" or intimidating, "being non threatening and not threatened at the same time." She commented on worker empowerment and how businesses are changing their behavior. "Because of the viral nature of our society, corporations and corporate leaders are being held accountable in a very different way than in times past," she says. She also argues that although women have made progress in the business world, black women still face discrimination.
Meghan spoke about how, from an early age, women are excluded from any discussion about money and finance and that this is a disadvantage in life and in work. She also talked about the importance of mentorship from women with business experience, in her case from Mellody Hobson.
Albert Bourla, Pfizer
Discovering a reputation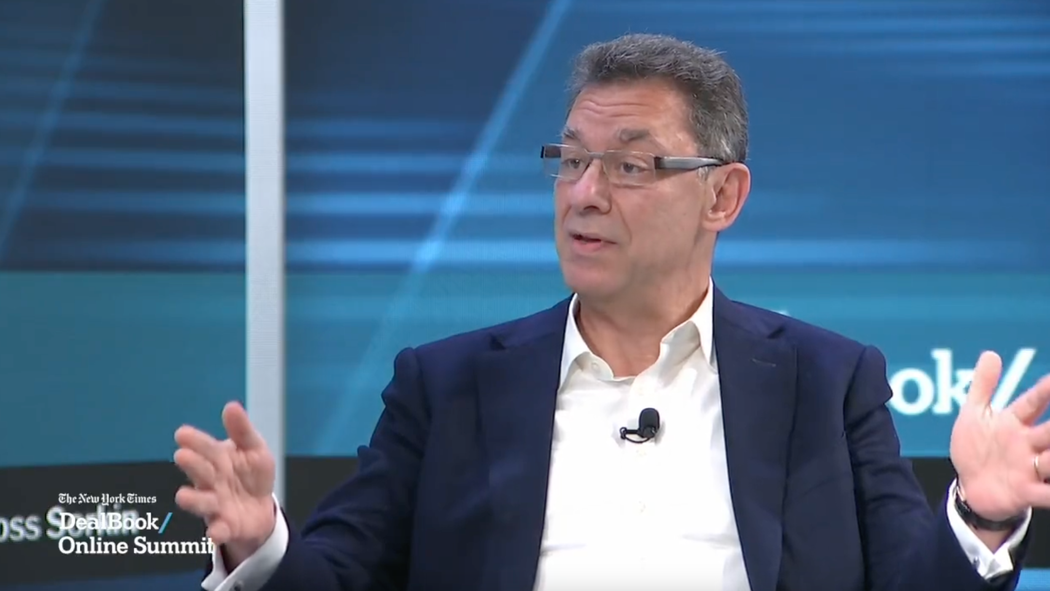 Because vaccines have created a great deal of controversy, an effective communication strategy is essential for success. Asked how the company can create trust in the vaccine Pfizer's leader Albert Bourla says the first thing is transparency. He went on to say that before the company makes a statement about efficacy or any new finding or product they must always take the time to verify their data and conclusions. Even a minor misstep can be damaging to the public's trust in the company and their reputation.
When asked about Biden calling out Facebook for disinformation about vaccines Bourla replied, "I'm not a politician and I'm not the president of the country." He chose to stay neutral and was unwilling to criticize Facebook or Google. Bourla went on to say that the new antiviral drug is a "game changer." This is a catchy phrase that seems to have been chosen and repeated many times since the new drug was announced. With the unprecedented development of the Covid vaccine Pfizer's bottom line has grown and so has it's reputation. It has become a recognizable name around the world. Bourla will continue to be careful to protect the brand and the impressive achievements the company has already made.