Aberje Award 2018 announces the best in communication and PR

30 de novembro de 2018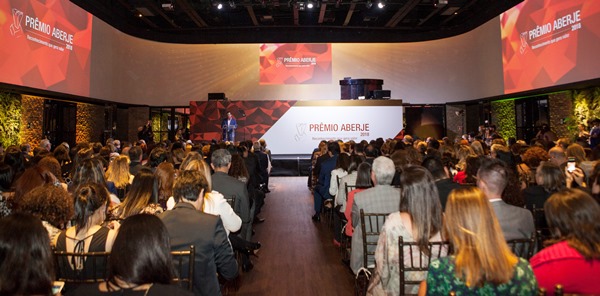 The 44th edition of Aberje Awards – regarded as the most important award of Brazil's corporate communication – took place on November 26 in São Paulo. It was granted to top organizations and professionals for contributing to the promotion of good practices in business communication in the country.
The event named the national winners of the 18 categories of the Award and highlighted organizations and professionals in special awards categories, such as Company of the Year, Media of the Year, and Communicators of the Year. In all, more than 280 cases were registered from 150 companies countrywide.
"Business has never been so dependent on the quality of communication to deliver sustainable results as it is today. We commend the best actions that, through communication, have delivered value to companies, their employees, their leaders, their investors, and to society," said Gislaine Rossetti, president of the Aberje Deliberative Council and Corporate Affairs director at Latam Airlines. "This good communication, this communication with an eye on results and another on ethics, is a conquest of ours since we work every day to be better professionals and citizens increasingly committed to the common good."
The Company of the Year Award was granted to Sanofi. Petrobras took the Special Image and Reputation Award thanks to the campaign "Trust," marked by the tagline "There is no easy way. There is the right way" signaling the integrated process of communication and corporate governance. Bayer received for the work developed during 2018 with the "Advancing Together" program, after the merger with Monsanto.
Ten Communicators of the Year received their prizes too. They are corporate communication professionals who stood out for the work developed inside and outside their respective companies. As in every edition, the ten names were put to a popular vote, and the one chosen by the public was Ana Gabriela Cardoso, general manager of Corporate Communication at Usiminas.
Grupo Globo was awarded twice in the Media of the Year category. The special project "O Brasil que eu quero" ("The Brazil I Want") by TV Globo and Época magazine were recognized for innovation in electronic and printed journalism, respectively. "While the television campaign interacted and gave voice to the Brazilian population, with more than 50,000 videos received from all over the country, Época magazine launched a new visual and editorial project this year", said Paulo Nassar, director-president of Aberje. Daily Folha de S.Paulo and the online news portal Poder360 were also recognized in the newspaper and digital category, for having acted impartially and independently throughout the year, especially during the elections. CCR conquered the Branded Content category.
Aberje Awards 2018
Brand communication
PUC-RS
Marketing Communication
COCA-COLA BRASIL
Communication of Programs for Corporate Sustainability
COCA-COLA BRASIL
Communication of Cultural Programs, Projects, and Actions
EDP ENERGIAS
FUNDAÇÃO ROBERTO MARINHO
Communication of Programs, Projects, and Sporting Actions
NISSAN
Communication and Organization of Events
PUC-RS
ENEL
LIVELO
Communication and Media Relations
CAIXA ECONÔMICA FEDERAL
Communication and Relationship with Society
GRUPO MARISTA
FIAT CHRYSLER AUTOMÓVEIS BRASIL
Communication and Consumer Relations
UNILEVER
Communication and Relationship with Internal Audiences
SANOFI
Communication and Relationship with Government Organizations
ANFIP e FENAFISCO
Communication and International Relations
CA TECHNOLOGIES
Integrated Communication
UNIMED RIO
Historical Responsibility and Corporate Memory
GRUPO MARISTA
Digital Media
SUPERVIA TRENS URBANOS
Audiovisual
GRUPO MARISTA
NEOENERGIA
Print
HOSPITAL ALEMÃO OSWALDO CRUZ
Special Publication
FECOMÉRCIO SÃO PAULO
Media of the Year
Television
TV Globo – O Brasil que eu quero
Digital Media
Poder360
Branded Content
CCR
Magazine
Época
Newspaper
Folha de S.Paulo
Special Image and Reputation Award
Petrobras
Bayer Brasil
Special Award
Grupo Votorantim
Santo Caos
Mattos Filho Advogados
Communicators of the Year
Alessandra Vasconcelos (Arteris)
Ana Gabriela Cardoso (Usiminas)
Jorge Gorgen (CNH Industrial)
Juliana Ferrari (Avon)
Júlio Gama (Vale)
Marina Peixoto (Coca Cola)
Mario Laffitte (Samsung)
Nelson Silveira (GM)
Rogério Louro (Nissan)
Viviane Mansi (Toyota)
Communication Paths
Renato Gasparetto, diretor de Assuntos Institucionais e Comunicação do Grupo Gerdau
Educator of the Year
Carlos Eduardo Bindi, diretor do Grupo Etapa
Company of the Year
Sanofi