4 Business Intelligence trends according to Think Consulting

26 de outubro de 2018
Business Intelligence (BI) is a process that uses technology to provide useful information in decision making. The strategy has gained popularity in the business world in recent years. Today, its implementation today is critical to business success.
In this article, you will learn the main trends of Business Intelligence that should guide the adoption of this technology in your company.
1. Enhanced analyzes
With the popularization of data-driven decision making, there is a tendency for business intelligence trends to become even more efficient for business. The more the enhanced data analysis is used, the more it will be useful to managers, who will use them to drive business strategies.
Enhanced data analysis combines several processes of preparation, discovery, and machine learning to provide increasingly accurate results for the questions posed by BI tools. According to consulting firm Gartner, this trend is strategic because it eliminates manual data preparation and can deliver more concrete results for organizations that use it.
2. Transition to the high-speed cloud
Cloud BI is a trend for three main reasons: mobility, ease of data interpretation and security. When business intelligence goes to the cloud, all professionals can have access to the data they need wherever they are, display capabilities operate more quickly, and it's easier to keep systems up-to-date and protected.
Increased scalability, flexibility, and governance make the cloud the leading business intelligence trend for the year 2018. And it allows companies large and small to rely on this technology to store their BI software.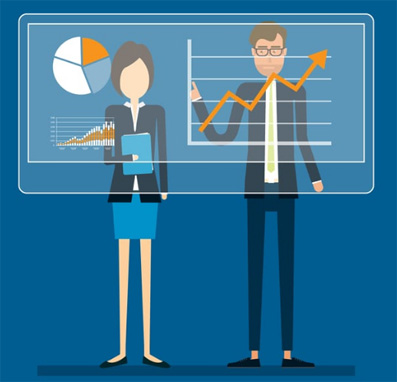 3. Modern approach to data visualization
Data visualization systems are essential for people in any department – even nonexperts in IT – to be able to use the information contained in BI software. So they need to be optimized whenever possible.
Until recently, few were able to handle data and optimize their viewing, but there are currently features, such as Qlik Sense, that help in this process.
When it comes to choosing a BI system that is appropriate to the company's needs, it is important to stick to the question of actionable data, which is more important than other smaller issues, such as the aesthetics of graphics.
4. More accessible BI systems
Finally, the most relevant Business Intelligence trend has to do with how much businesses have used this technology. Modern and affordable BI resources reduce the costs of investing in this solution and also train your staff to use the tool. Indeed, it means that BI is no longer an exclusive management tool and goes on to help advance the work of other business departments, such as the one made up of your sales force.
A lot will change in Business Intelligence in the next few years. So keeping an eye on area trends can help your business get ahead of the competition and get better results.
THINK – Think Consulting is a São Paulo-based company specialized in mining, extracting and preparing business data, providing customers with fact-based decision making, and real analysis.